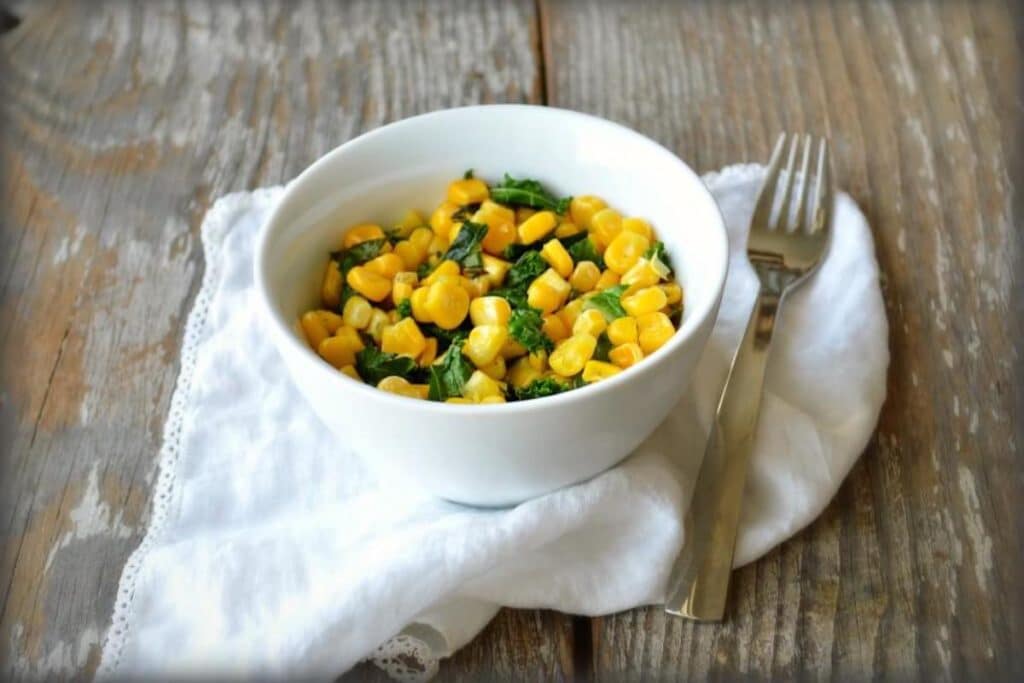 If you're looking for a frozen kale recipe or simple Gluten Free side, this is a great one! With only 5 ingredients, it's the perfect easy side for healthy weeknight dinners.
We first developed our Herbed Corn & Kale recipe as part of our Pantry / Freezer menu in Spring of 2020. It became an instant hit with Prep Dish subscribers and it couldn't be any simpler!
It requires only a few ingredients, most of which you likely already have in your pantry or freezer. This is a simple go-to you can rely on at the end of the week when you're low on produce or didn't have a chance to prep anything ahead.
No one likes mid-week emergency grocery runs, which is why I love keeping ingredients for a few easy dinners on-hand. This one is perfect because it only requires a few staples. Combining kale with something super familiar like corn is also an excellent way to encourage picky kids to give it a try.
I hope you love this one!
Herbed Corn & Kale
Ingredients
1

T

olive oil

16

oz

frozen corn

8

oz

frozen kale

1/2

tsp

herbes de Provence

(or Italian Seasoning)

S&P to taste
Instructions
Rinse 16 oz bag frozen corn and 8 oz frozen kale under cold running water until thawed. Squeeze excess moisture out of thawed kale.

Heat 1 T olive oil on medium low heat. Add 16 oz frozen corn, 8 oz kale, 1/2 tsp Herbs de Provence (or Italian seasoning) and S&P to taste.

Continue to cook, stirring often, about 5 -10 minutes.
What is the nutrition like in herbed corn and kale?
As simple sides go, this a nutrient-packed one! Here's what you need to know:
Corn: While corn is mostly carbohydrates, it ranks low-medium on the glycemic index, so won't spike your blood sugar as much as some carbs. Corn is also high in fiber, folate, vitamin B6 and potassium.
Kale: Kale is high in vitamin K, vitamin A, vitamin C and folate.
Herbs: The exact blend varies but herbes de Provence contains a variety of healthy herbs like basil, thyme and rosemary. Basil is a significant source of vitamin K and may also reduce memory loss, blood pressure, and depression. Rosemary is also full of antioxidants. Smelling both basil and rosemary also may help you feel more alert and focused so consider growing some in a kitchen garden to smell whenever you need a boost! Thyme is thought to potentially help lower blood pressure, improve immunity and improve your mood. Many of the studies on herbs have focused on essential oils and extracts so further studies are needed to substantiate these benefits from culinary uses.
Is frozen kale as healthy as fresh?
It's easy to think of fresh fruits and vegetables as the healthiest choice, but frozen produce is often just as healthy! Its picked at peak ripeness and immediately processed and frozen, rather than sitting on a shelf gradually losing nutrients.
With frozen kale though, there is likely a slight decrease in the nutritional value because frozen kale is generally blanched before freezing. Cooking kale can decrease its vitamin C and antioxidant value. However, the nutrient loss is low and vitamin C is abundant in a variety of foods.
At the end of the day, the more leafy greens the better! If minimizing prep work by buying frozen kale means your family eats more kale, I'd consider that a win.
What's the key to a tasty frozen kale recipe?
I like to keep frozen kale on hand, but it definitely has a time and a place.
Along with this herbed corn and kale recipe, my favorite ways to use frozen kale are in soups, chilis, pasta sauces and smoothies. I would never use frozen kale for a salad because the texture would be off.
In addition to choosing an appropriate recipe for frozen kale, the other key is thawing and draining it properly. If you add frozen kale directly to a recipe, it will likely yield a watery result. Instead, thaw the kale in a colander in the sink so that all of the excess water can drain as it thaws. Then squeeze all of the excess water out of the thawed kale.
My Tips for How to Cook Frozen Vegetables
I will always prefer fresh vegetables to frozen. At the end of the day, I just prefer the taste.
However, I definitely think frozen produce can play a key role in making sure we all get enough veggies, even on the busiest of weeks.
I recommend experimenting to see which frozen vegetables are most palatable to you and your family. While some might enjoy roasted frozen butternut squash, others will prefer steamed frozen broccoli or frozen green beans sautéed with some lemon and garlic.
It's worth experimenting here because if you can find even just 2-3 frozen veggies your family enjoys, you'll always have a healthy side on-hand. Not only do you not have to worry about frozen veggies going bad, they obviously require very little prep work as well since you don't need to wash or chop.
For more tips on using frozen veggies, check out my Meal Prep Monday episode on my must-have freezer items (and those I skip!)
What should I serve with this herbed corn and kale recipe?
One of the best things about this simple gluten free side is that it contains carbs from the corn as well as plenty of vitamins from the kale, so all you really need to make a complete dinner is a protein.
Serve this with any protein you enjoy, such as Maple Mustard Pork Tenderloin or a simple salmon recipe like this one.
What are some other kale recipes?
Vegetable Bean Soup: This is another frozen kale recipe and another big hit from our 2020 freezer / pantry menu. Keep the simple ingredients in your freezer and you'll always have a healthy homemade option, no matter how bare your fridge gets!
3 Bean, Kale & Ancho Chili: While this chili recipe calls for fresh kale, you could easily use frozen instead. It takes less prep and is just as tasty in soups and chilis!
Sweets, Beets & Kale Hash: If you want a breakfast that packs a nutritional punch, you can't beat this one! Full of veggies and protein, your body will be fueled for even the craziest days after this breakfast.
Massaged Kale Salad: If you prefer your kale raw in salad form, give this citrusy recipe a try!
This page contains affiliate links. Thank you for your support of Prep Dish!
Want to save for later? Pin the image below!