Meet Allison Schaaf
Chef | Nutritionist | Registered Dietitian | Founder & CEO | Mom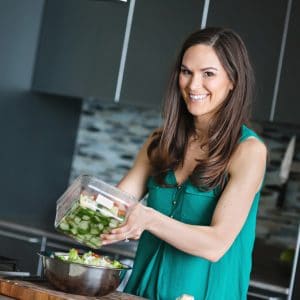 For seven years and counting, Allison has made her way into the hearts and kitchens of home cooks all over the globe. Prep Dish was created after a decade as a personal chef and gourmet chef at high-end spas because she knew there was a more efficient, cost-effective, and sanity-saving way to put healthy, crowd-pleasing meals on the table.
Allison's goal is to help make meal time-efficient, healthy and of course, tasty!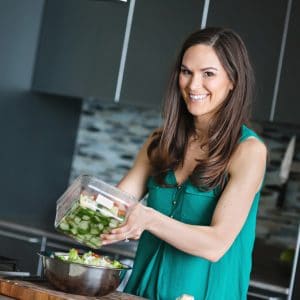 We believe healthy eating can be easy & enjoyable!
Our goals are simple, we want to:
Save you time & decrease stress
Ensure healthy & gluten-free tastes delicious
Bring back family dinners
Create happier, healthier people!
We are with you every step of the way with grocery lists, prep day, & day-of instructions.
Melody Maki
Customer Service
Melody is a wife to her husband of 14 years and mom to their three beautiful girls. They have had the opportunity to live in (and love!) several places all over the country but are currently in the North Country of New York. Melody loves to read and spend time with her family and has always liked trying new recipes in the kitchen. Her favorite time to cook is when she isn't in a hurry and can enjoy the process. Melody is grateful to be part of the Prep Dish team and everything it stands for in helping busy families get back to the dinner table with easy, nutritious meals.
Melody's Favorite Recipes:
Meri Raffetto
Meal Plan Editor
Meri is a Registered Dietitian, author, and triplet mom living in Southern California. As the meal plan editor at Prep Dish, she is always excited to create new monthly menus and help with content from blogs to newsletters. Growing up Italian-American, the kitchen was where everything happened! Celebrations, hard times, or just everyday issues were centered around a meal. Working for Prep Dish allows Meri to do the work she loves and to help others who share those same meal-time values.
Heather Montgomery
Operations Manager
Heather lives in Madison, Mississippi with her husband and five-year-old daughter. As a lover of health and fitness, she has run four full marathons, 30+ half marathons, and also enjoys boot camp classes, watching football, and playing outside with her family. An avid traveler, she gets away with her loved ones as much as possible and documents it all on Instagram. In trying to teach healthy eating habits to her daughter, Heather has been trying new things in the kitchen, and has even found some new favorite recipes thanks to Prep Dish!
Heather's Favorite Recipes:
Christina Clemer
Assistant Content Editor & Creator
Christina lives in Austin, TX with her husband and two kids. She graduated from Georgetown University with a finance degree and has experience in business consulting, education and freelance writing. Christina loves running, hiking and working toward her goal of visiting every national park.
Christina's Favorite Recipes:
Kate Teodoro
Customer Service
Kate is a mom of two young kids ages 7 and 5. She and her husband recently moved to a super small town in Eastern Washington and they love it. There are rivers, lakes, orchards, farmland and lots of sunshine! They are both very passionate about leading a healthy lifestyle and setting a good example for their kids, whether it's eating good food, working out, getting out into nature, and playing with the kids. She loves to cook most everything from scratch and is always up for a new adventure! Kate loves working at Prep Dish because she believes that all families deserve to eat healthy food and it should be something they do together! Prep Dish makes that possible.
Courtney McManus
Customer Service
Courtney is a mom of three, wife, and for the past 13 years has been a personal trainer working specifically with moms/women. As a busy mom herself, her goal is to make sure she is preparing and offering the healthiest meals in the least amount of time. Working for Prep Dish allows her to continue to help others who are embodying the same principles of healthy meal prep, and she is happy to support them on this journey however she can through Customer Support.
Courtney's Favorite Recipes:
"Prep Dish makes life so much simpler!"
No more thinking. No more stress. No more meal time guesswork.
"Thank you Allison & Prep Dish!!! The food is delicious and we are both feeling better. Steven has lost at least 10 pounds and I am down about 5 pounds. Woohoo! The best part is that it doesn't feel like we are on a diet or anything, just eating healthy :)"
Natalie, Busy Mom on a Mission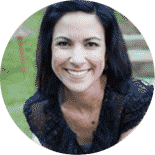 "I think planning ahead is key when it comes to avoiding processed food. And that's because it's those times when you don't have a plan that you find yourself looking for a quick option, which sometimes ends up being the drive through."
Lisa, Founder of 100 Days of Real Food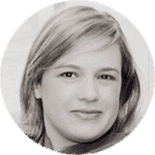 "We are saving hundreds of dollars a month now that we use Prep Dish. I never realized how much money we were wasting each week going out to eat for lunch and dinner! We decided to put the savings into a future college account for our daughter instead."
Jessica, Full-Time Working Mom
AS SEEN ON…