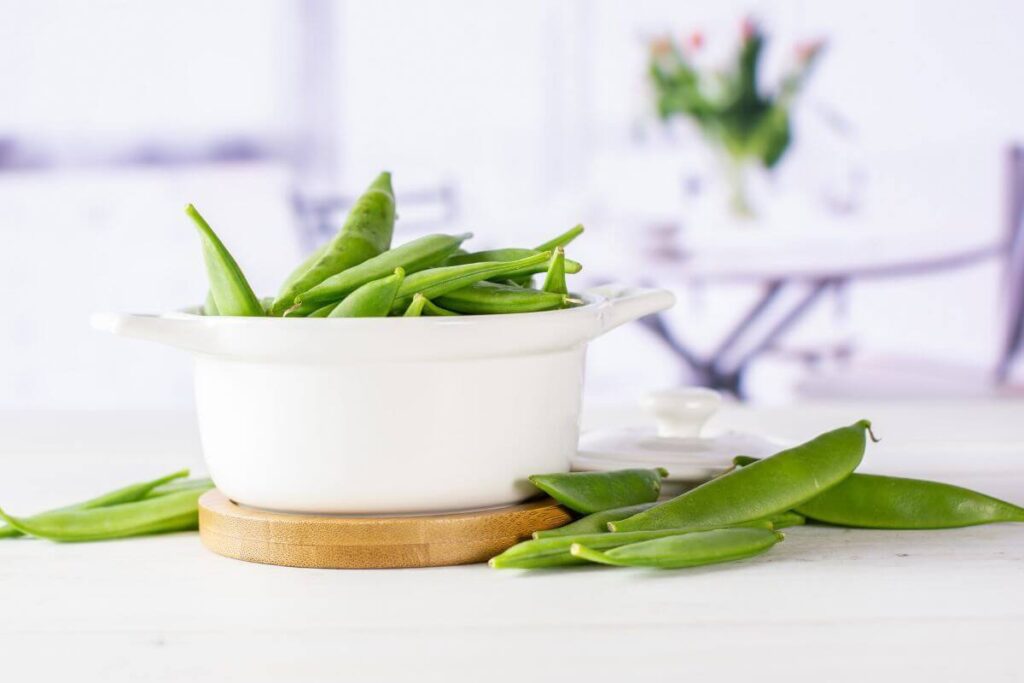 Get simple instructions for steaming sugar snap peas. It's super simple and makes this naturally sweet veggie taste even better!
One key to healthy snacking? Planning ahead! If you have a pre-planned snack prepped and ready to go, you have a no-thinking-involved snack you can grab when hunger strikes. Otherwise, if you wait until you're hungry, the chances of selecting an in-the-moment healthy snack are slim.
Steaming sugar snap peas (snack peas?) is an easy way to have a healthy snack on-hand for the week.
Snap peas are one of my favorite veggies. While they can be eaten raw, I love them steamed as they take on an even sweeter flavor. The key is to steam for a very short time- 2-3 minutes max. I either eat plain or dip into a low-sodium tamari (wheat-free soy sauce) or a veggie dip of choice (like hummus). These also work as a quick & easy side, I prefer tossing with a tiny sprinkle of red chili flakes & sea salt.
For more meal prep recipes & tips on the regular, make sure to sign up for my free weekly newsletter! Bonus – you'll get a free meal plan when you sign up!
Easy Method for Steaming Snap Peas
Ingredients
4

cups

snap peas

salt to taste
Instructions
Steam snap peas for 2-3 minutes only. Allow to cool and store in the refrigerator for future snacking. Serves ~4.
Notes
*Nutrition information is for one serving.
Nutrition
Calories:
35
kcal
|
Carbohydrates:
6
g
|
Protein:
2
g
FAQ for Steaming Sugar Snap Peas
If you're wondering how to cook snap peas, check out the below FAQ for optimal results.
How long do sugar snap peas take to cook?
Wondering how long to steam sugar snap peas? The answer is, not very long at all!
Steam sugar snap peas for just 2-3 minutes for best results. After all, you can eat them raw, so it's really just about getting them to your desired texture.
How do you cook sugar snap peas so they are not stringy?
Some sugar snap peas are stringier than others. Look for the "stringless" type in your grocery store for best results. It also helps to buy them in season, in the spring and summer months.
Finally, avoid overcooking so your snap peas don't get stringy. Steaming sugar snap peas takes just 2-3 minutes so make sure to set that timer for the best taste and texture!
How do you steam sugar snap peas without a steamer?
While there are a few options for steaming without a steamer, it's simpler to just blanch your snack peas instead if you don't have a steamer basket. To do this, add sugar snap peas to boiling water for 1-2 minutes and then immediately transfer to ice water to stop the cooking process.
That said, a steamer basket is an inexpensive cooking tool that takes up very little space so I do think it's worth adding to your kitchen tools.
How long do steamed sugar snap peas last in the fridge?
Steamed sugar snap peas last for 3-4 days in the fridge, like other cooked veggies. Check out my food safety and storage guide for more information on how long various items stay fresh.
I want more easy, healthy snack ideas!
I've got you covered! I'm a big believer in having healthy snacks on hand, especially since I've become a mother. I know from experience that there's not always time to wash and chop produce when hunger strikes, especially when we're talking snacks. Here are a few of my favorite prep-ahead snacks.
I find that having an easy homemade veggie dip on hand is one of the best ways to encourage healthy snacking for my family. This basil aioli is a great choice, as is my homemade paleo ranch dressing! Serve with carrot sticks, raw bell peppers, cucumber slices, or…you guessed it, steamed sugar snap peas!
Healthy energy bites are one of my favorite snacks to keep on hand because everyone loves them and it's so easy to make a big batch and freeze. Consider doubling or tripling the recipe as, at least in my house, these tend to disappear quickly!
Homemade popcorn is quick and easy to make. It's also a whole lot of fun! Involve the kiddos as they'll love listening for the first pops. Enjoy homemade popcorn on its own or mix with nuts and dried fruit.
What healthy foods do you like to snack on? Do you prep them ahead of time? Share your ideas and pictures on Facebook, Twitter or Instagram as @prepdish in all 3 places, or leave a comment below.