These healthy popcorn recipes feature homemade popcorn seasonings and healthy add-ins for a simple, satisfying snack. We'll also answer your questions on how to make homemade popcorn!
If you love salty snacks but are looking for something a little (or okay, a lot) healthier than the standard chips and crackers, popcorn is the perfect solution!
One of my go-to gluten free snacks, popcorn is anything but boring. You can make it sweet, savory or even spicy. You can add in dried fruit or nuts and seeds to give some extra flavor and protein. It's super simple and always a winner with kids. You really can't go wrong!
If your'e looking for healthy school lunch ideas, popcorn is also a great addition there. To take it to the next level, set out some healthy add-ins at the beginning of the week and let your child create their own healthy popcorn recipe, mixing in nuts and dried fruit of their choice. They can enjoy it all week long and you can enjoy a break from the not-so-healthy snack requests.
Enjoy!
Spiced Popcorn Mix
Ingredients
2

T

cumin

1

T

paprika

1

T

oregano

1/2

T

turmeric

fresh ground black pepper to taste

1

bag

air popped popcorn*

(~ 15 cups)

2

cups

walnuts
Instructions
Combine the spices to create a spice mix.

Toss 1 bag air popped popcorn with 1/4 cup spice mix.

Add the walnuts to the mix.
Notes
*Note: read all ingredient lists; avoid added msg, sugar, gluten, salt, etc.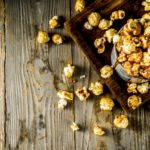 Print Recipe
Cinnamon Toast Popcorn
Ingredients
6

cups

air popped popcorn*

2

T

coconut oil

5

T

maple syrup

1.5

tsp

cinnamon

1/4

tsp

salt

parchment paper
Instructions
In a small pot over med heat warm 2 T coconut oil, 5 T maple syrup, 1 1/2 tsp cinnamon and 1/4 tsp salt until melted.

In a large bowl, pour mixture over 6 cups popcorn and stir until well coated. Pour onto parchment lined sheet pan. 

Bake in oven for 10-12mins. 
Notes
*Note: read all ingredient lists; avoid added msg, sugar, gluten, salt, etc.
Print Recipe
Popcorn w/ Dried Figs & Pecans
Ingredients
1

large bag air popped popcorn*

(~15 cups)

2

cups

chopped pecans

2

cups

chopped dried figs

1

T

pumpkin pie spice
Instructions
Quarter the dried figs and chop pecans.

Toss 1 bag air poppsed popcorn with 1 T pumpkin pie spice.

Add dried figs and pecans into popcorn mix.
Notes
*Note: read all ingredient lists; avoid added msg, sugar, gluten, salt, etc.
**Variation: Use 2 cups raisins and 2 cups sliced almonds instead of figs and pecans.
What is the nutrition like for these healthy popcorn recipes?
Popcorn on its own has some serious nutritional value. Add in nuts and dried fruit? It's a super healthy snack packed with vitamins! Here's some more information on what some of the ingredients in our healthy popcorn recipes offer:
What is air popped popcorn?
Air popped popcorn is popped without any oil. Popcorn kernels have a small amount of water inside of them and hot air can be used to make this water expand and cause the popcorn to pop.
You can buy air popped popcorn or you can make your own. You can buy a microwave air popper or you can actually just use a standard brown paper bag.
All you need to do is pour about 1/4 cup of popcorn kernels into a brown paper bag (think old school lunch bag). Pour 1/4 cup of kernels into a paper bag and tightly fold the top a few times. Then simply microwave for 2-3 minutes, listening for when the pops are a few seconds apart.
Then your popcorn is ready to season with one of our homemade popcorn seasoning recipes!
This method has all of the convenience of microwave popcorn without the harmful PFOAs in the microwave bags you can buy at the store.
You can of course also buy a standard air popper. It's super easy to use and you'll quickly make up the cost of buying a few bags of popcorn.
How to Make Homemade Popcorn – Do I need a popcorn maker?
While many people love the convenience of an air popper, you do not have to have one to make homemade popcorn. You can also easily make delicious homemade stovetop popcorn!
For this method, pour 2-3 tablespoons of high quality oil into a dutch oven over medium heat. Extra virgin olive oil, coconut oil or avocado oil all work well.
Test the oil to see if it's hot enough by tossing a few kernels into the oil to see if they sizzle. When the oil is hot, pour in 1/2 cup of kernels and put the lid on the pot. Cook for 2-3 minutes, gently shaking the pot to help distribute the kernels so they all pop. When the popping sounds are a few seconds apart, your homemade popcorn is ready!
While this method isn't totally oil free, it is so much healthier than movie theater or microwave popcorn. Plus it's totally delicious!
What are some other homemade popcorn seasoning & add-in ideas
Oh my, where to begin? Basically anything you might enjoy in trail mix makes an excellent addition to a popcorn mix. Here are a few of my favorite homemade popcorn recipe add-ins!
Coconut chips (or these chocolate ones would be SO good!)
Mini chocolate chips if you're in the mood for more of a treat
Dried cherries
Pepitas
Shelled pistachios
Dried herbs for a savory mix (dill or rosemary would be delicious!)
Red pepper flakes
Nutritional yeast for a cheese-like flavor and a major vitamin boost
What are some other healthy gluten free snacks?
While fruit or sliced veggies are of course excellent options for snacking, sometimes you feel like something a little more special. Here are a few of my favorite, totally craveable gluten free snacks:
Guacamole Stuffed Peppers: Any snack that's veggie packed AND feels like a treat is a winner in my book. These guac stuffed mini peppers fit the bill!
Easy Paleo Ranch: Dipping makes veggies so much more fun but you don't want to choose a dip that totally negates the nutrition of the veggies! Our paleo ranch is the perfect solution. The salsa ranch in this post also makes an excellent dip for veggies!
High Protein Almond Butter Energy Bites: If you're in the mood for more of a sweet snack, you can't go wrong with these almond butter energy bites! Like our healthy homemade popcorn recipes, they're totally customizable to fit your family's preferences.
This page contains affiliate links. Thank you for your support of Prep Dish!
Want to save for later? Pin the image below!