Pair one of these easy veggie sides with any protein to make a complete meal. No-prep veggies make healthy family dinners so easy!
Do you find yourself reaching for the same vegetable side dishes again and again? Whether it's broccoli or green beans, every family has their favorites. There's certainly nothing wrong with that but it's easy to get stuck in a rut, especially when you're busy!
Mixing up your veggie side dishes has some serious benefits though. First of all, it exposes family members to new tastes and textures, which is super important for avoiding picky eating. Second, eating a wide variety of veggies helps you get all of the vitamins and nutrients your body needs to feel your best. (Psst! That's one of the benefits of our done-for-you meal prep meal plans! We make sure to include a variety of veggies from week to week.)
Even if you have the best intentions though, most of us don't have time to research new and creative vegetable ideas for dinner each and every week. That's why I'm bringing you 10 EASY veggie sides today. I'm talking veggies that take virtually no chopping or prep work required. You can easily mix and match these sides with various proteins to form complete, healthy meals throughout the week.
Feel free to mix up the seasonings as well! These healthy vegetable dishes are quite simple, so feel free to raid the spice cabinet and get a little creative here.
What makes easy veggie sides?
So what makes "easy veggie sides"? In my mind, there are a few things that qualify a vegetable side dish as truly easy:
No chopping! Some nights, getting out the cutting board and knife once again is just too much work. (Not to mention washing the cutting board!) In all of my years of meal prep, I find that chopping generally takes the most time and effort, which is why I looked for veggies that don't require much, if any, chopping for this list.
Few ingredients – You'll notice that the easy veggie sides below require very few ingredients. Keeping ingredients to a minimum cuts down on both prep time and cost, a win-win!
Taste – While I'm a huge fan of efficiency, I never sacrifice flavor for speed. Each of the below vegetable ideas for dinner is truly delicious in addition to being super easy.
10 No-Prep Vegetable Ideas for Dinner
1. Whole Roasted Carrots
This is perhaps my personal favorite from the list. Whole roasted carrots just taste SO good! My whole family loves them.
They do roast for quite a while, but I just toss them in the oven at the start of my weekly meal prep session and let them roast away while I prep other items. So easy!
To make whole roasted carrots, wash the carrots and drizzle generously with olive oil. Sprinkle the carrots with salt. Roast for an hour to an hour and a half at 325F. You can do a higher temperature for less time if you have something else in the oven (e.g., 375F for an hour) but make sure they don't burn! These are also great as a base for carrot soup so make a big batch and give that a try!
2. Baby Greens
Using baby spinach and baby kale is one of my favorite ways to get extra greens into my family's diet. I love adding a bag of baby spinach to marinara on pasta night or sauteing some baby kale for an extra easy veggie side while I wait for a protein to finish cooking. I'll also simply toss some baby greens with whatever homemade salad dressing I've prepped for the week for a simple side salad.
These greens require no prep, are incredibly nutritious, and are generally mild in flavor, making them perfect for the kiddos!
3. Whole Roasted Spaghetti Squash
Do you avoid cooking winter squash because it's so hard to chop? If so, I've got great news from you – you can skip the chopping altogether and roast the squash whole!
Similar to whole roasted carrots, this takes a long time but very little effort. I like to combine roasted spaghetti squash with actual spaghetti. I roast the squash completely whole on a baking sheet – it's tough to cut raw so I skip that step! Make sure to let it cool before cutting. Scoop the seeds out and serve! So incredibly easy.
4. Cherry Tomatoes & Sliced Mushrooms
These are two no-chop veggies that go quite nicely together. You can either roast or saute the cherry tomatoes and mushrooms in olive oil with a bit of salt. Feel free to add whatever other seasoning you're in the mood for – black pepper, garlic powder, Italian seasoning, you can't go wrong!
5. Baked Sweet Potatoes
Everyone in my house loves sweet potatoes, including me! I make a batch of these almost every week. They do roast for a while but don't let that stop you from including them in your weeknight rotation. You can easily roast ahead of time and simply re-warm when you're ready to eat.
6. Baked Potatoes
Similar to sweet potatoes, baked potatoes are such an easy, no-prep side dish. Keep it simple, sprinkling with salt and pepper, or snip some fresh herbs, such as chives, thyme or parsley, over the top for a fresh twist.
7. Steamed Sugar Snap Peas
I love raw sugar snap peas but sometimes steaming them elevates them a bit, making them perfect for an easy veggie side dish. They steam for only 2-3 minutes, making this a super fast side. Try sprinkling with a bit of sea salt and red pepper flakes – YUM!
8. Roasted Broccoli Florets
There are times when convenience warrants spending a few extra dollars and, on busy weeks, broccoli florets are one of those times. Don't feel bad about buying pre-chopped broccoli when you need to. It's a great way to save time in the kitchen while still ensuring your family is getting plenty of veggie goodness.
I love to simply roast broccoli florets with a bit of olive oil and salt but you can also steam or saute them.
9. Roasted Cauliflower Florets
Similarly to broccoli, buying pre-chopped cauliflower florets is a great option when you're short on time. Roast cauliflower with olive oil, salt and whatever seasonings you love. So simple and so good!
10. Roasted Garlic
Okay, this one is a bit of a bonus more than a complete side dish, but I just couldn't leave it out. I slice off the very top of a head of garlic, drizzle it with olive oil and salt, wrap in foil and roast for about an hour at a lower temperature. Roasted garlic is sweet and soft with none of the sharp flavor that characterizes raw garlic. Spread it on toast, toss it with pasta or add it to a variety of savory dishes for added flavor and nutrition.
I want more healthy side dish recipes!
When you have a bit more time, but still want an easy, simple side dish, I have some great options for you:
Okay, this one isn't quite as quick as the no-prep veggie sides above but, trust me, it's worth it on a night when you have a bit of extra time. Serve with a simple salad or grilled or roasted chicken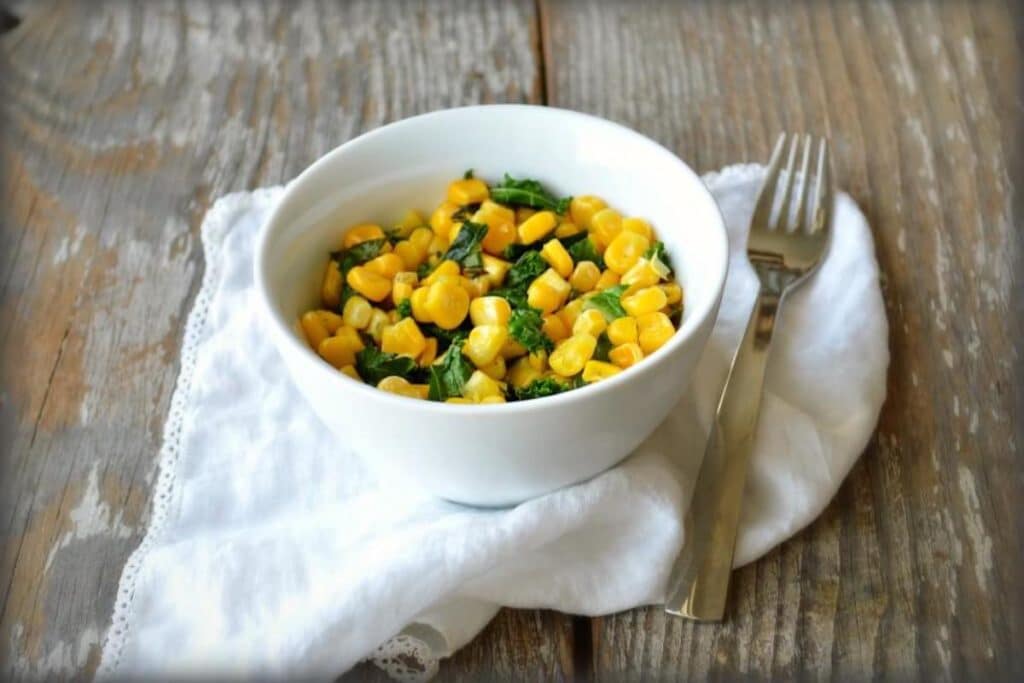 My favorite thing about this healthy side dish recipe? It relies entirely on freezer & pantry ingredients! You can't beat that.
If you haven't tried cooked radishes, you must add this one to the list! Radishes take on an entirely different flavor when cooked. They're much less sharp and pungent this way.